The 3rd International Conference on Power and Renewable Energy was sponsored by IACSIT.
The conference was opened by the program chair, Prof. Mohan Kolhe from University of Agder, Norway. And then Prof. Dr.-Ing. Kai Strunz from Technical University of Berlin, Germany, Prof. Mohan Kolhe, and Prof. Masayuki Morimoto fromTokai University, Japan shared their keynote speech with us one after another in the morning of Sept. 22. The program includes 8 parallel sessions (6 oral presentation sessions and 2 poster sessions), which provides a wide spectrum of researches in various areas such as Solar Energy Development and Utilization, Photovoltaic Systems and Power Generation Technologies, Energy Storage Technology and Energy Engineering, Power System and Energy, Electrical Engineering and Mechatronics, and Renewable Energy and Clean Energy. 72 delegates are from 30 countries and regions such as Canada, Mexico, Egypt, Turkey, China, Taiwan, Japan, South Korea, India, Iran, Saudi Arabia, Germany, Australia, United Kimdom, South Africa, France, Brazil, Portugal, Lithuania, Ecuador, Romania, Poland, Algeria, Denmark, Morocco, Colombia, Italy, Indonesia, Latvia, and Indonesia.
ICPRE 2018 Proceedings, The proceedings of ICPRE2018 has been published online and indexed by EI Compendex and Scopus already!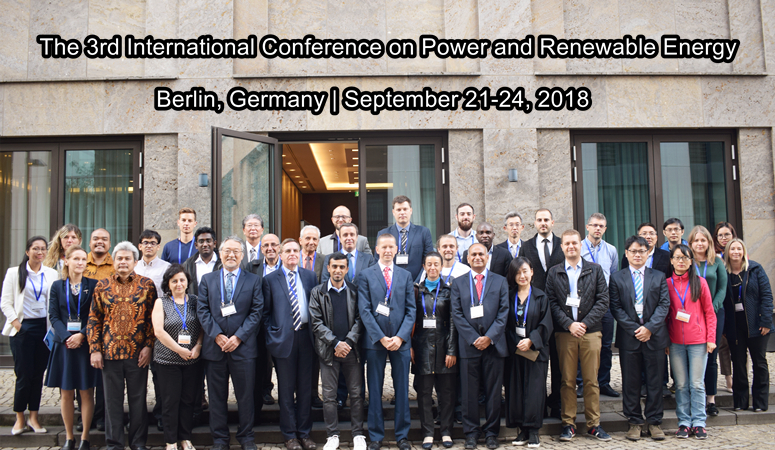 | | | |
| --- | --- | --- |
| Session Group Photos | | |
| | | |
| | | |
| | | |
| | | |
| Keynote Speakers | | |
| | | |
| | | |
| Best Presenters | | |
| | | |
| | | |
| | | |